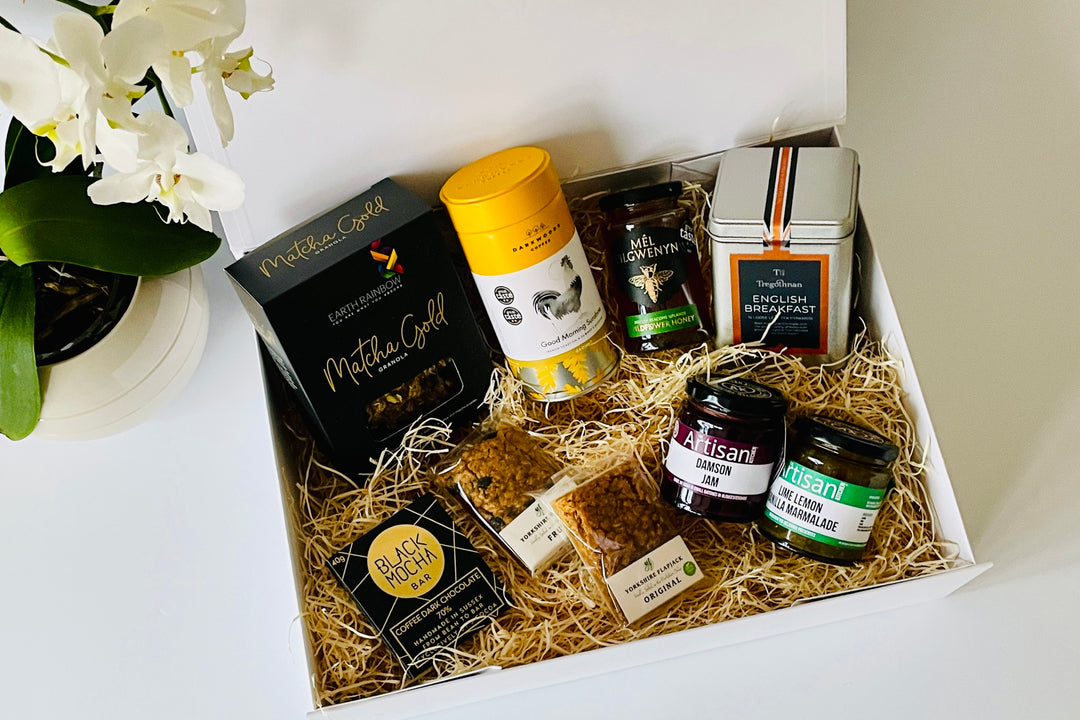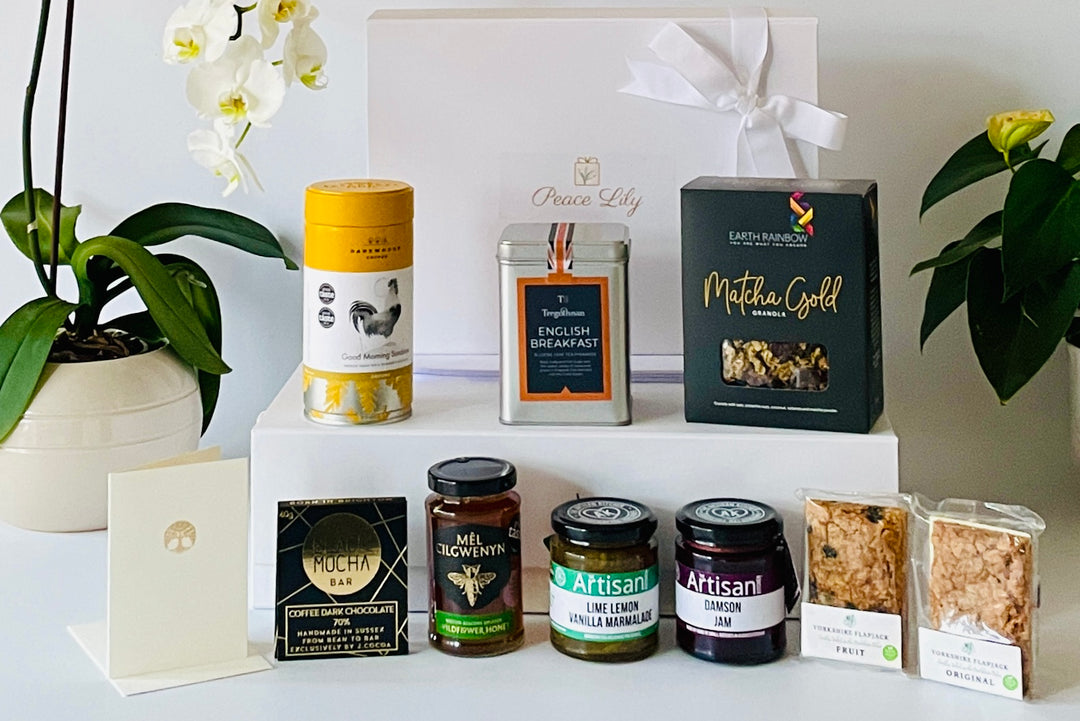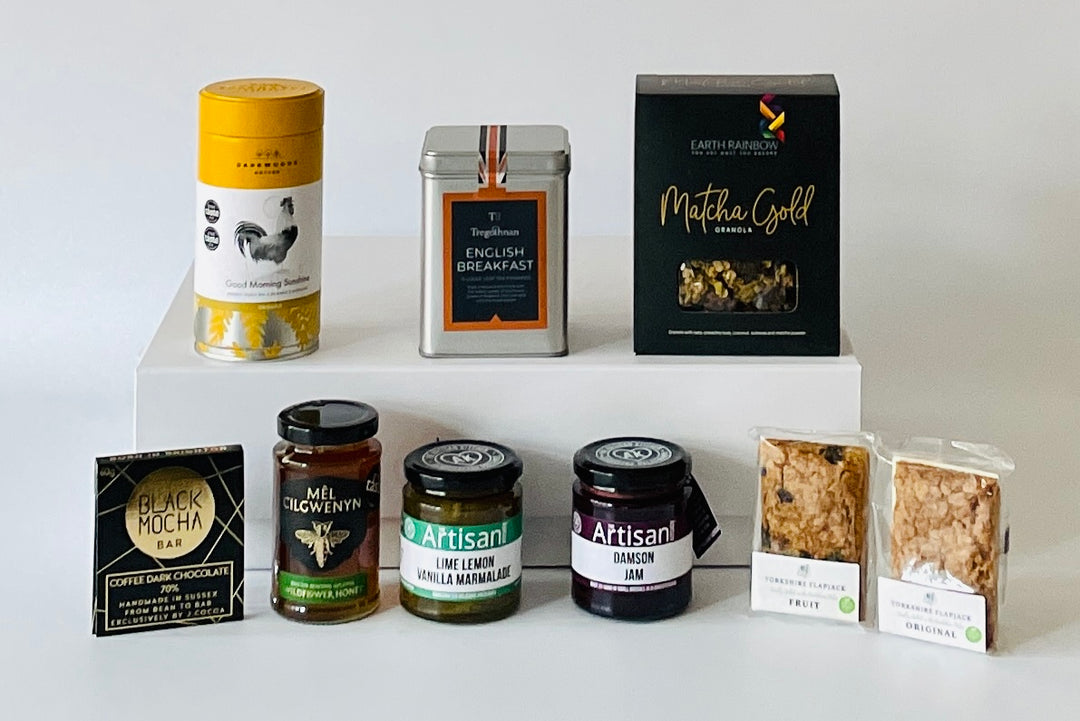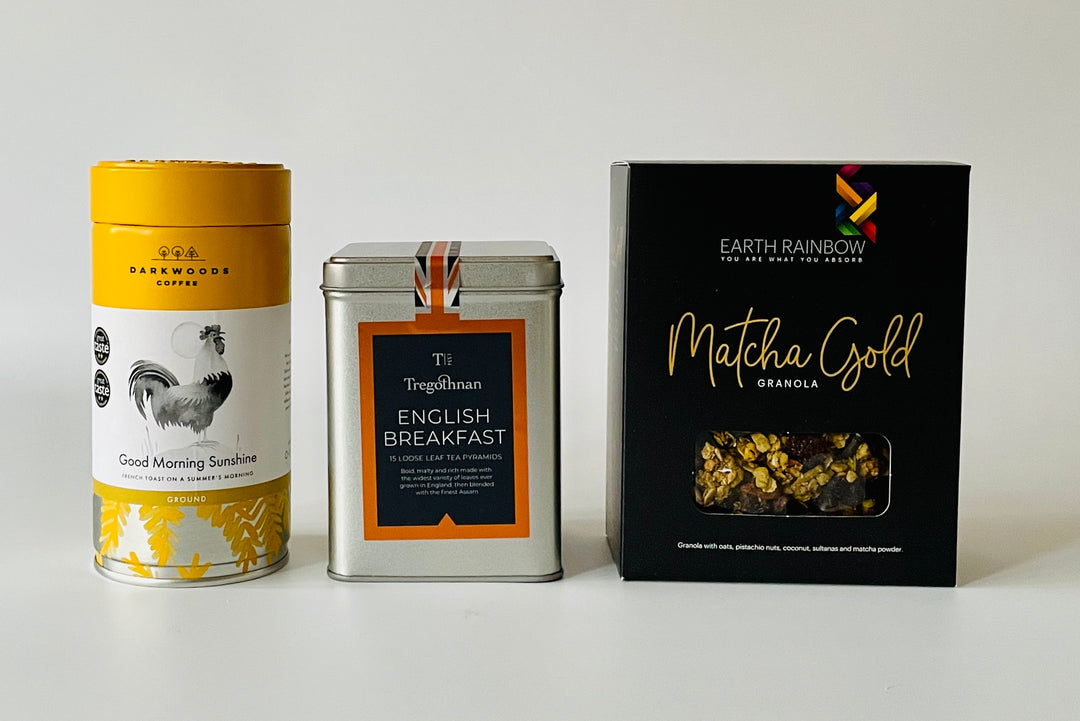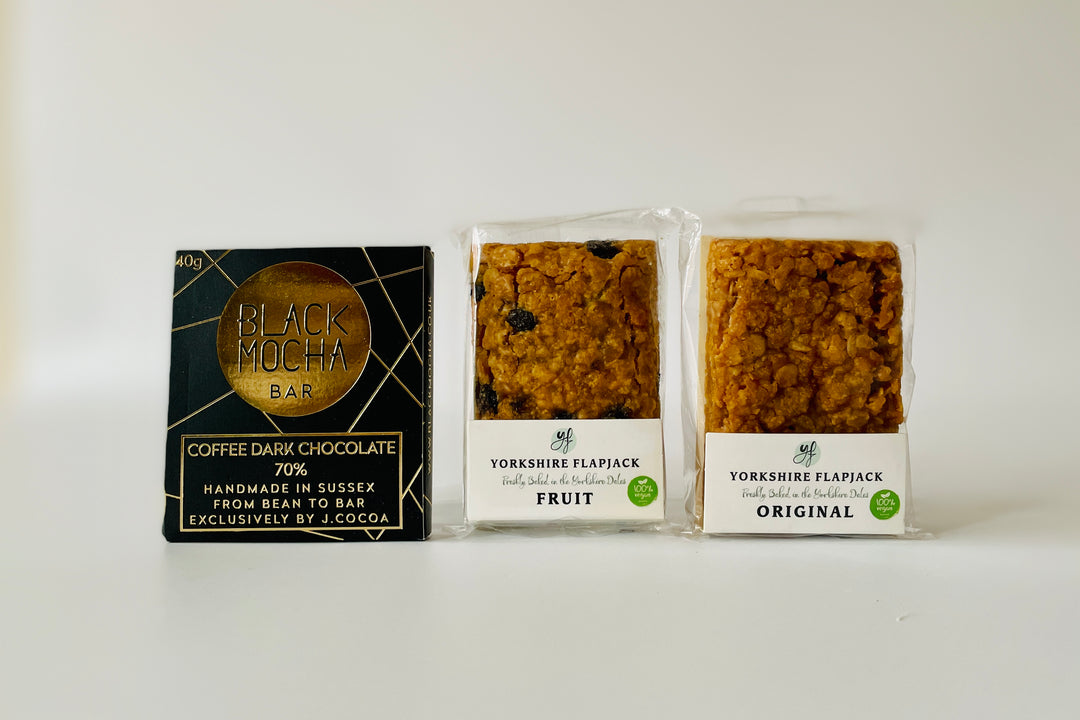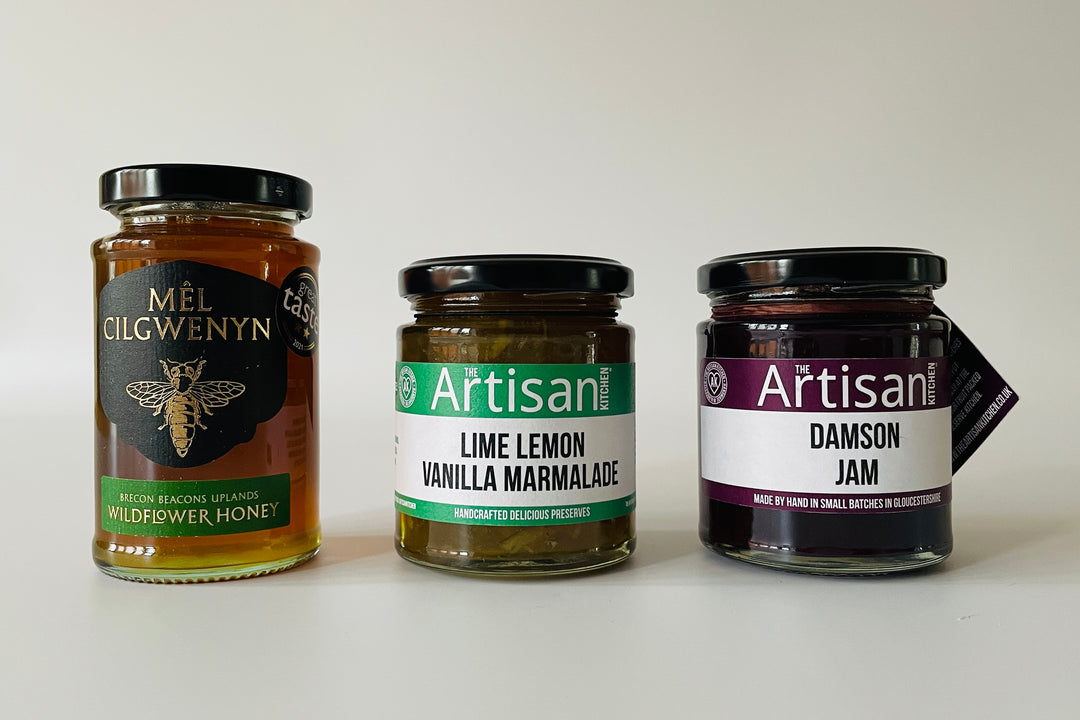 Breakfast Gift Hamper
202310FG1
---
Dispatched within 5 working days
Add free personalised card
Liquid error (snippets/image-element line 107): invalid url input
A great gift to kick start any day, with Great Taste Award winners. A beautiful gift for anniversaries, birthdays, Christmas, Father's Day, Mother's Day, saying thank you or any other special occasion.
With British grown green tea, multi-award winning hand roasted coffee, Gloucestershire Jam, Welsh honey and lots more, this hand packed and carefully curated gift box is sure to brighten up someone's day!
This breakfast gift hamper is beautifully presented in a reusable magnetic white box with eco-friendly natural filler and is accompanied by a card and envelope with your personal message, and a hand tied ribbon and bow to finish.
What's in the gift?
This gift includes:
1. A personalised card with the recipient's name and your personal message. Please choose your card type and add your free personalised message in order notes in the shopping basket.
2. Tregothnan Breakfast Tea (15 pyramid bags): Bold, malty and rich blend made with the widest variety of leaves ever grown in England, then blended with the finest Assam. 
The innovative loose leaf tea caddy contains the unique loose leaf teas in biodegradable silken tea pouches. All the perks of enjoying loose leaves without the need for a teapot or tea strainer! The pouches are made from cornstarch and are 100% biodegradable and plastic-free. Product of Cornwall.
3. Dark Woods Coffee Good Morning Sunshine (150g, Ground): Award winning  bold breakfast blend, selected from sweet and complex high-altitude South & Central American arabicas. This is perfect for those who like a richer brew and it stands up to milk, sugar, eggs and cornflakes alike!

The Dark Woods Coffee team ls located in riverside Victorian Mill nestled in the West Yorkshire Pennines and surrounded by dramatic moorland, from where they roast coffee on a vintage Probat drum roaster. Product of West Yorkshire.
4. Earth Rainbow Matcha Gold Granola (300g): A 2-Gold Star winner at the 2021 Great Taste Awards. Think Breakfast with the orient express as you start the day with matcha jam packed with health promoting compounds and providing a vibrant boost. 
Nichaan and Paul, the makers, believe that eating nutritious food is important, but it should also be fun! Product of Bangor, Northern Ireland.
5. Mêl Cilgwenyn Brecon Beacons Uplands Wildflower Honey (270g): Explore the wilderness of the Brecon Beacons with this glorious and irresistible two-star Great Taste Welsh Honey. 
Raw and 100% Carbon Neutral ethically and sustainably produced Welsh Wildflower Honey from local beekeepers, uniquely made of nectar from flowers including woodland edge clover, knapweed, damson, thistle, blackthorn, and hawthorn at apiaries situated in a Special Area of Conservation within the Brecon Beacons National Park. Product of Wales.

6. The Artisan Kitchen Damson Jam (200g): Yet another three-star jam! A multiple award winning jam from 2021 winner of the Golden Fork Award – South West and Golden Fork – Small Artisan Producer Of The Year. Handcrafted from British fruit in Gloucestershire. Utterly delicious, incredible. Vegan-friendly.
7. The Artisan Kitchen Lime Lemon Vanilla Marmalade (200g): It's another multiple Great Taste Awards winner! Kick start the start with this deliciously zingy marmalade that is lovely and fresh and vibrant. Vegan-friendly. Product of Gloucestershire.
8. Black Mocha Coffee Dark Chocolate Bar (40g): A 2020 Great Taste award winning hand made in Sussex by bean-to-bar maker J.Cocoa. Using the finest Nicaraguan cocoa and Guatemala coffee, this bar is a blend of bright citrus fruit complimented by subtle cocoa notes from this single origin coffee. The Black Mocha bar can be eaten or made into a hot chocolate. 
9. Yorkshire Flapjack Slices (x2): From the award winning home of delicious small batch Flapjacks of the highest quality. Yorkshire Flapjack stemmed off a family recipe that has been passed down three generations and  they continue using the finest ingredients and traditional small batch methods. Product of North Yorkshire.
9. Magnetic Gift Box: Sturdy and made from 40% recycled material, your beautiful box can be up-cycled once all your hamper goodies are gone. Ideal for storing treasured items or mementos; and will complement any home. What will you or your recipient do with yours/theirs?
Some products may vary on occasion subject to stock, however the breakfast gift hamper will include items of similar value and will be just as scrumptious.
Gift Box Hamper Dimensions: 40 x 30 x 11cm. 
The magnetic box hamper will be placed in a cardboard packing box for postage.
All hampers and gifts are handmade to order and are shipped within 3 to 5 working days Monday to Friday (excluding bank holidays).
Enjoy free standard UK delivery on orders over £60.
Please check for the ingredients of individual items online before purchasing.
Alternatively, do not hesitate to contact us, ask for any items not to be included or for a substitution.
In our curated hand-packed gift boxes, you will find many classic local delights, as well as high-quality products made by passionate award-winning artisans from across the UK.
Each hamper box contains the finest products, healthier choices and great taste while supporting small businesses, good causes and the environment. All handpacked with love.