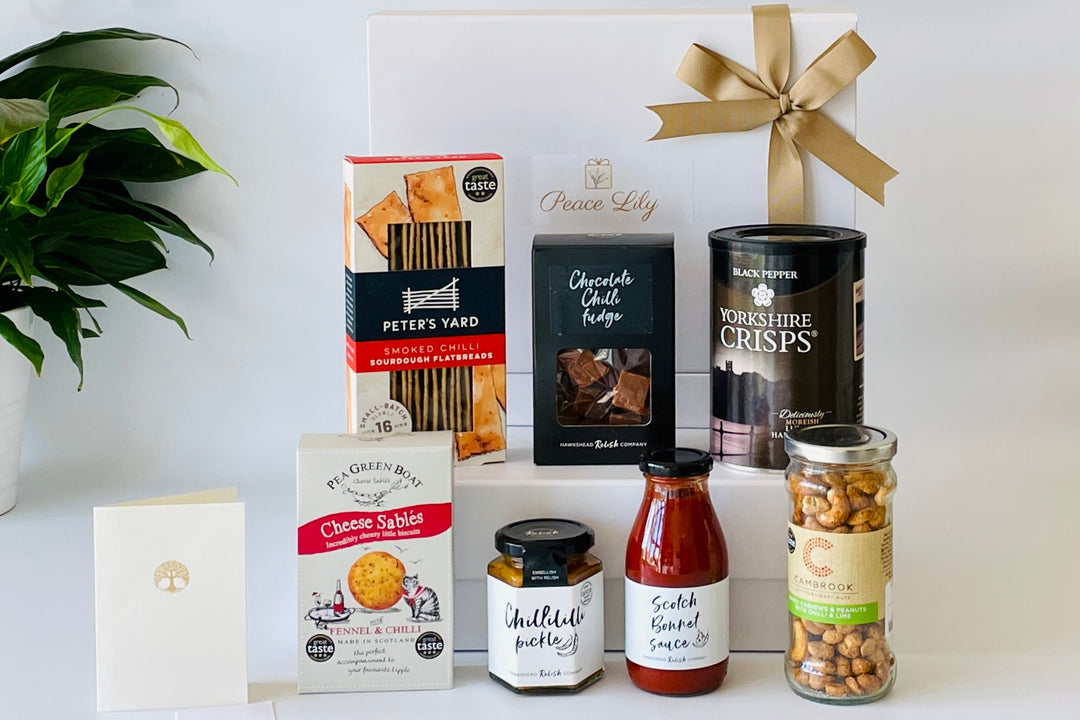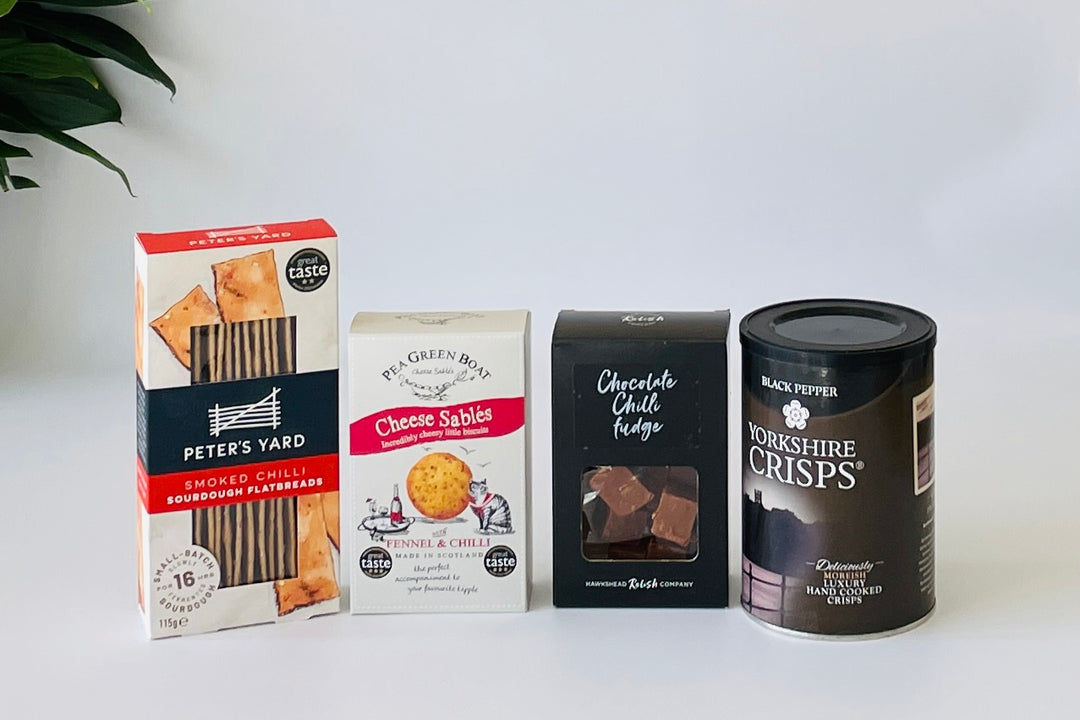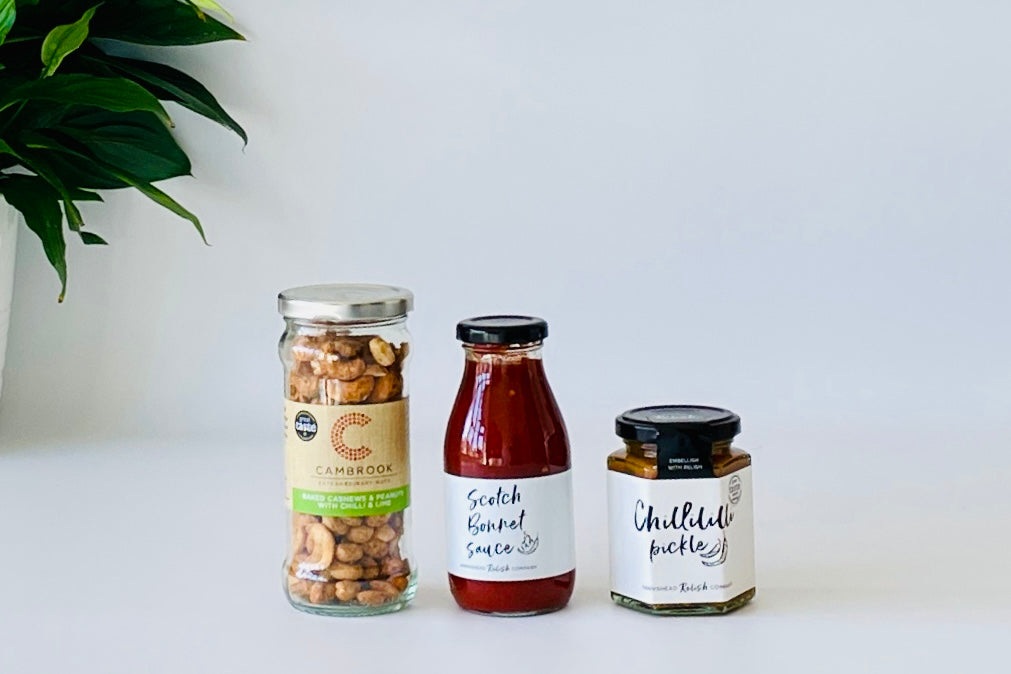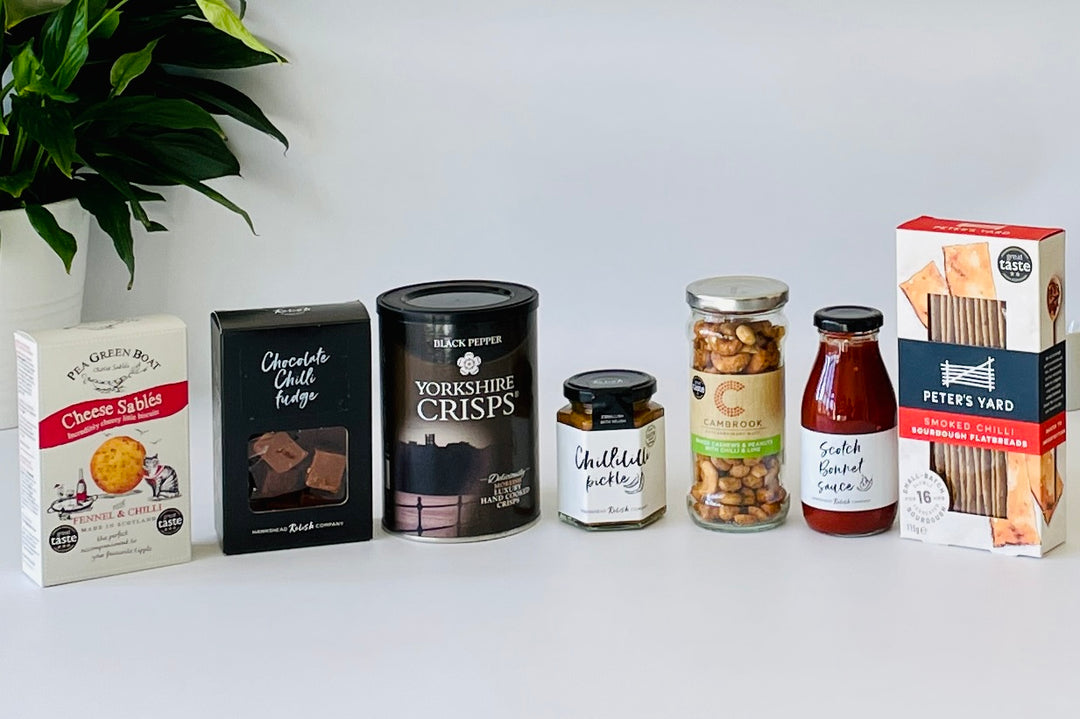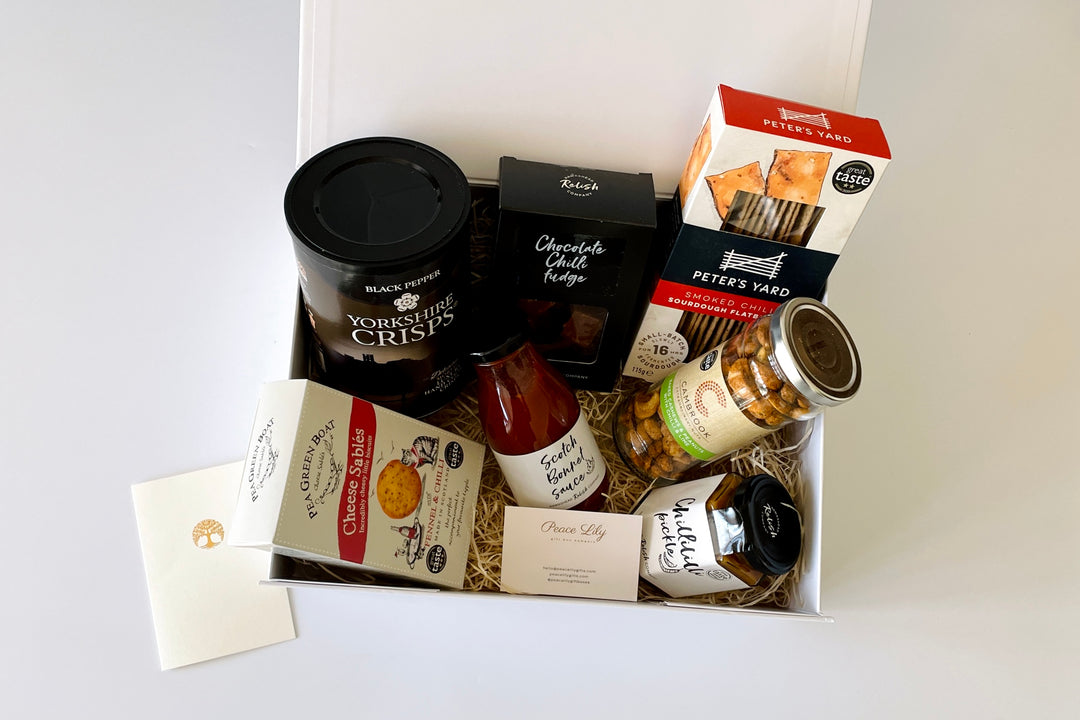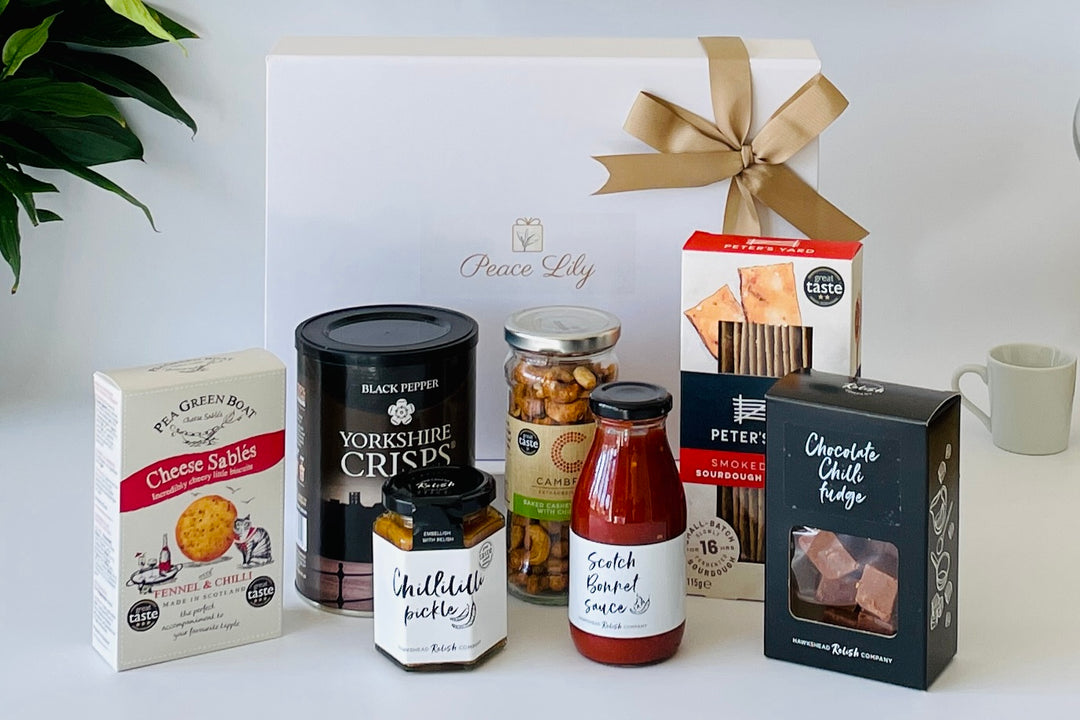 Hot Stuff Chilli Gift
202333FG
---
Dispatched within 5 working days
Add free personalised card
Liquid error (snippets/image-element line 107): invalid url input
A perfect gift for the lover of fine foods and chilli on any occasion! From anniversaries, baby showers, birthdays, Christmas, Easter, saying thank you, well done or just because, you've got this!
Featuring Great Taste and other award winners, this hand packed and carefully curated gift box is sure to heat up the taste buds.
This chilli gift is beautifully presented in a reusable magnetic white box with eco-friendly natural filler and is accompanied by a card and envelope, with a hand tied ribbon and bow added to finish.
What's in the gift?
This chilli gift includes:
1. A personalised card with the recipient's name and your personal message. Please choose your card type and add your free personalised message in order notes in the shopping basket.
2. Hawkshead Chilli lilli (185g): A twist on Piccalilli. A chunky and traditional chutney, packed with all the good stuff and finished with a kick of chilli. Gherkins, cauliflower, red peppers, carrots, courgettes, and more are fused together with mustard, pepper and chilli. Vegan, gluten-free.
From the multi-award artisan food producer in the Lake District, Cumbria.
3. Hawkshead Scotch Bonnet Sauce: (270g): Hot sauce perfect for adding a kick of flavour to any dish! Vegan, gluten-free. Product of Cumbria.

4. Cambrook Cashews & Peanuts – Baked With Chilli & Lime (170g): One star from Great taste awards 2020. Baked cashews and peanuts seasoned with their unique recipe of chilli and lime for a spice and freshness to brighten your day. Vegan and gluten-free. Product from Andover, Hampshire.
5. Yorkshire Crisps Black Pepper (95g): Their luxury hand-cooked crisps are deliciously moreish and packed full of taste and flavour, and made from carefully selected potatoes grown by local farmers on the chalky soils of the Yorkshire Wolds. 
From the winners of Best Snack in the Caterer and Hotelkeeper Awards for Excellence and Gold Great Taste Awards. Product of Yorkshire.
6. Peter's Yard Smoked Chilli Sourdough Flatbreads (115g): Two stars from the Great Taste awards 2020. Hand-baked in small batches with sourdough starter slowly fermented for 16 hours. Crafted from Shipton Mill flour, British rapeseed oil and naturally smoked jalapeño chilli. Tuck in with your favourite dips. Vegan-friendly. Made in Shrewsbury.
7. Pea Green Boat Cheese Sablés with Fennel & Chilli (80g): Winner of the Golden Fork Award for best Scottish product alongside 3* Great Taste Awards in 2020 and 2019.
Lovingly hand made using mature cheddar, Italian parmesan, butter and local organic flour. Enjoy with wine and other drinks, for picnics or as a unique canapé base. Its warm, spicy notes pair especially well with Gin & Tonic and a cool beer or cider. Product of Edinburgh.
8. Hawkshead Relish Chocolate & Chilli Fudge (150g): Be warned this is not for the faint hearted! Handmade surprisingly happy combination of chocolate and chilli for those who like it hot and sweet. Advise: try a little sliver first and add more according to your heat preference. Product of Cumbria.
9. Magnetic Gift Box: Sturdy and made from 40% recycled material, your beautiful box can be up-cycled once all your hamper goodies are gone. Ideal for storing treasured items or mementos; and will complement any home. What will you or your recipient do with yours/theirs?
Some products may vary on occasion subject to stock, however the chilli gift set hamper will include items of similar value and be just as scrumptious.
Gift Box Hamper Dimensions: 33 x 25 x 11 cm.
The magnetic box hamper will be placed in a cardboard packing box for postage.
All hampers and gifts are handmade to order and are shipped within 3 to 5 working days Monday to Friday (excluding bank holidays).
Enjoy free standard UK delivery on orders over £60.
Please check for the ingredients of individual items online before purchasing.
Alternatively, do not hesitate to contact us, ask for any items not to be included or for a substitution.
In our curated hand-packed gift boxes, you will find many classic local delights, as well as high-quality products made by passionate award-winning artisans from across the UK.
Each hamper box contains the finest products, healthier choices and great taste while supporting small businesses, good causes and the environment. All handpacked with love.