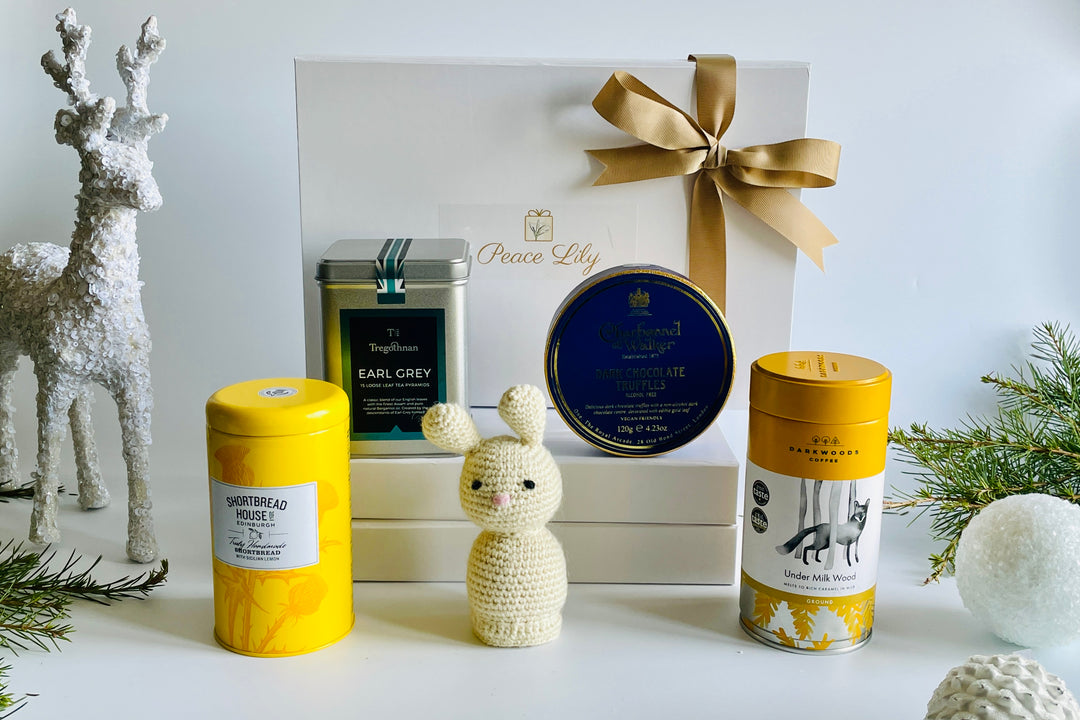 Bunny @ Christmas Family Hamper
2023141FG
---
Dispatched within 5 working days
Add free personalised card
Liquid error (snippets/image-element line 107): invalid url input
A family hamper with Great Taste Award winners - scrumptious!  
With hand roasted specialty grade coffees, UK grown tea, royal approved gold leaf truffles, Scottish shortbread biscuits, this hand packed and carefully curated gift box of award-winning products will delight! Ooh ... and bunny (for the little ones or those young at heart)!
This gift is beautifully presented in a reusable magnetic white box with eco-friendly natural filler and is accompanied by a card and envelope with your personal message, and a hand tied ribbon and bow to finish.
What's in the gift?
This coffee and chocolate hamper gift includes:
1. A personalised card with the recipient's name and your personal message. Please choose your card type and add your free personalised message in order notes in the shopping basket.
2. Dark Woods Coffee Under Milk Wood (150g, Ground): Another multiple Great Taste Award winner, that has also received the coveted Golden Fork for Best Northern Product. Specialty arabica coffee beans from their partners in Fazenda Passeio in Brazil and Kalladavarapura Estate in India are combined with the finest Yirgecheffe from Ethiopia. Product of West Yorkshire.
3. Charbonnel et Walker Dark Chocolate Truffles with Edible Gold Leaf – Alcohol Free (135g): This beautiful midnight blue gift box is filled with delicious, rich, Dark Chocolate Truffles, filled with a decadent Dark Chocolate centre and decorated with a striking flourish of edible gold leaf. Vegan-friendly.
Founded in 1875, Charbonnel et Walker, the iconic London chocolatier, is one of Britain's earliest and holds a Royal Warrant as a manufacturer of chocolate to Her Majesty The Queen.
4. Shortbread House of Edinburgh Original Recipe Shortbread Biscuit - Lemon (140g Tin): Indulge in this multiple Great Taste Award winner, handmade with the addition of a little ground rice that gives a light crisp texture. Irresistible. Product of Edinburgh.
5. Made in the Button Room Rabbit Mini (12.5 cm): A charming soft peg-doll waiting to be given a home and name (we call it RABBIT)! Lots of opportunity for imaginative play or as a mascot. Made from pure sheep's wool yarn and organic cotton stuffed with 100% cleaned sheep fleece. UKCA CE tested. Product of Gloucestershire.
6. Tregothnan Earl Grey Tea (15 pyramid bags): A premium blend of Cornish tea from Tregothnan, the finest Assam, and natural Citrus Bergamia oil. invigorating and uplifting, yet subtle and sophisticated. Product of Cornwall.
7. Magnetic Gift Box: Sturdy and made from 40% recycled material, your beautiful box can be up-cycled once all your hamper goodies are gone. Ideal for storing treasured items or mementos; and will complement any home. What will you or your recipient do with yours/theirs?
Some products may vary on occasion subject to stock, however the chocolate and coffee hamper will include items of similar value and will be just as scrumptious.
Gift Box Hamper Dimensions: 33 x 25 x 11 cm.
The magnetic box hamper will be placed in a cardboard packing box for postage.
All hampers and gifts are handmade to order and are shipped within 3 to 5 working days Monday to Friday (excluding bank holidays).
Enjoy free standard UK delivery on orders over £60.
Please check for the ingredients of individual items online before purchasing.
Alternatively, do not hesitate to contact us, ask for any items not to be included or for a substitution.
In our curated hand-packed gift boxes, you will find many classic local delights, as well as high-quality products made by passionate award-winning artisans from across the UK.
Each hamper box contains the finest products, healthier choices and great taste while supporting small businesses, good causes and the environment. All handpacked with love.