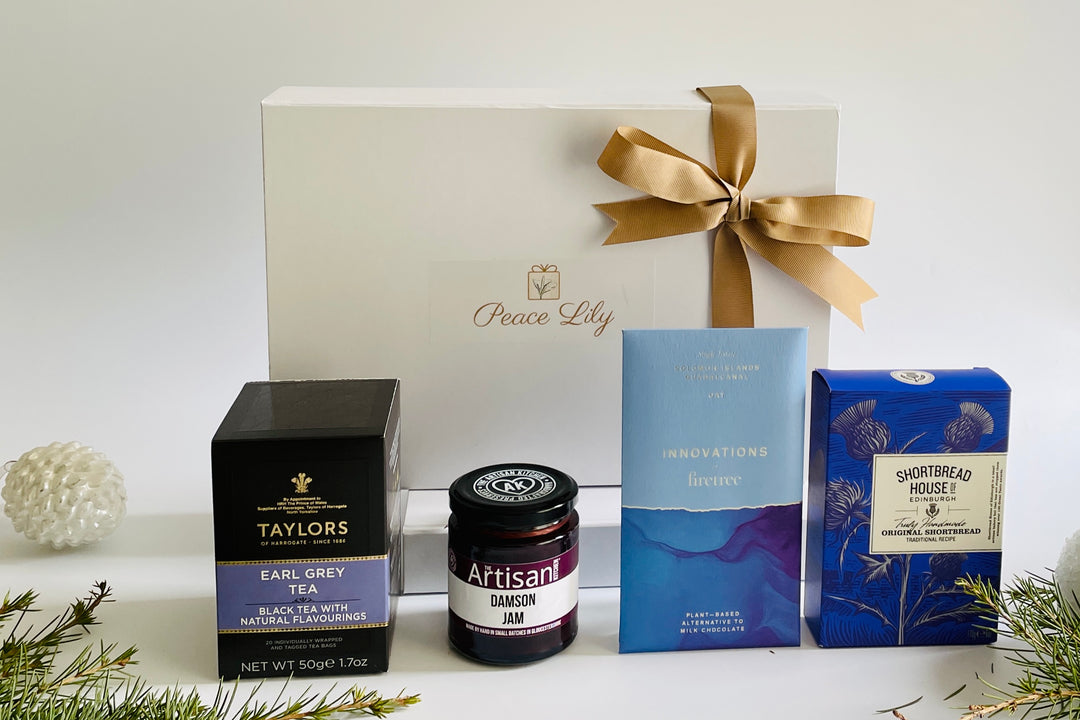 Christmas Tea Break Hamper
2023144TG
---
Dispatched within 5 working days
Add free personalised card
Liquid error (snippets/image-element line 107): invalid url input
A premium tea and biscuit gift. With multi-award winning delicious Scottish shortbread fingers, tea, artisan jam and a tasty plant based milk chocolate this hand packed and carefully curated gift box is sure to delight.
This tea and biscuit gift is beautifully presented in a reusable magnetic white box with eco-friendly natural filler and is accompanied by a card for your personal message, and a hand tied ribbon and bow to finish.
What's in the gift?
This Christmas gift includes:
1. A postcard or greeting card for your personal message. Please add your message in order notes in the shopping basket.

2. Taylors of Harrogate Tea Earl Grey (20 Envelope Tea Bags): Light and elegant with the delicate fragrance of Bergamot to enjoy at any time of the day. Serve with or without milk to taste.
With the option to select Taylors of Harrogate Afternoon Darjeeling or English Breakfast tea if you prefer.
3. Shortbread House of Edinburgh Original Recipe Shortbread Biscuit (150 - 170g): Indulge in this multiple Great Taste Award winner, handmade with the addition of a little ground rice that gives a light crisp texture. Irresistible. Product of Edinburgh.
4. Firetree Solomon Islands, Guadalcanal, Oat Milk Bar (65g): Single-estate plant-based milk chocolate. Crafted in the UK from gluten-free oats, providing the smooth, buttery richness of toasted oats with Solomon Islands Single-Estate dark chocolate. Product of Peterborough, Cambridgeshire.

5. The Artisan Kitchen Damson Jam (200g): A multiple award winning jam from 2021 winner of the Golden Fork Award – South West and Golden Fork – Small Artisan Producer Of The Year. Handcrafted from British fruit in Gloucestershire. Utterly delicious, Incredible.
6. Magnetic Gift Box: Sturdy and made from 40% recycled material, your beautiful box can be up-cycled once all your hamper goodies are gone. Ideal for storing treasured items or mementos; and will complement any home. What will you or your recipient do with yours/theirs?
Some products may vary on occasion subject to stock, however the tea and biscuit hamper will include items of similar value and will be just as scrumptious.
Gift Box Hamper Dimensions: 28 x 22 x 11cm. 
The magnetic box hamper will be placed in a cardboard packing box for postage.
All hampers and gifts are handmade to order and are shipped within 3 to 5 working days Monday to Friday (excluding bank holidays).
Enjoy free standard UK delivery on orders over £60.
Please check for the ingredients of individual items online before purchasing.
Alternatively, do not hesitate to contact us, ask for any items not to be included or for a substitution.
In our curated hand-packed gift boxes, you will find many classic local delights, as well as high-quality products made by passionate award-winning artisans from across the UK.
Each hamper box contains the finest products, healthier choices and great taste while supporting small businesses, good causes and the environment. All handpacked with love.