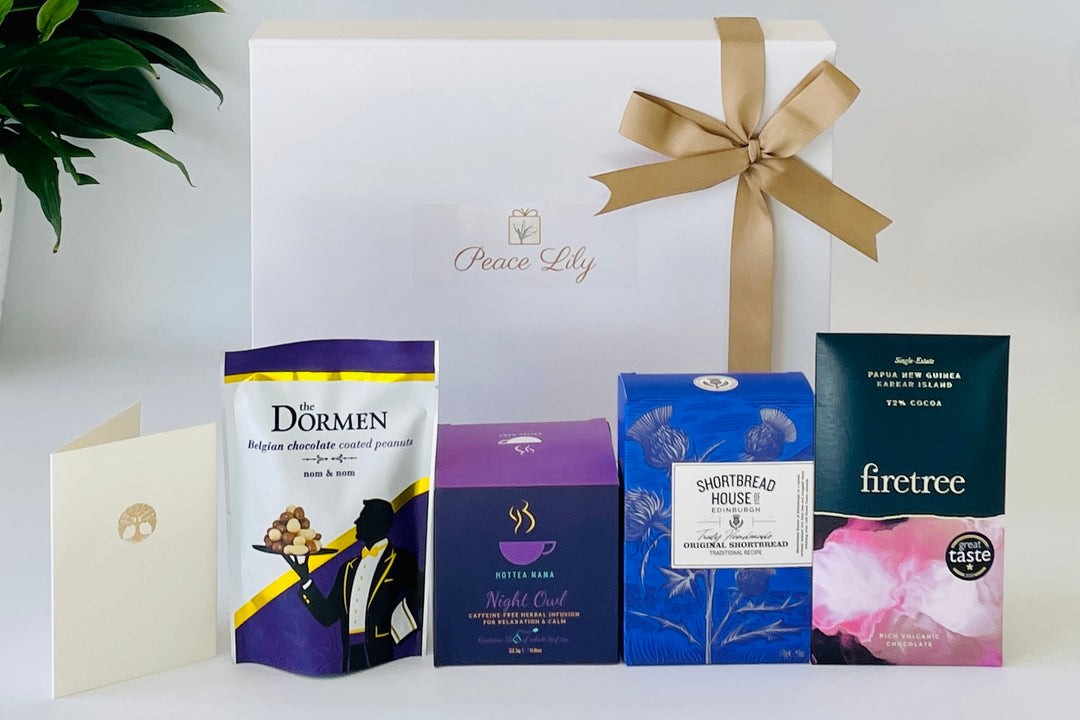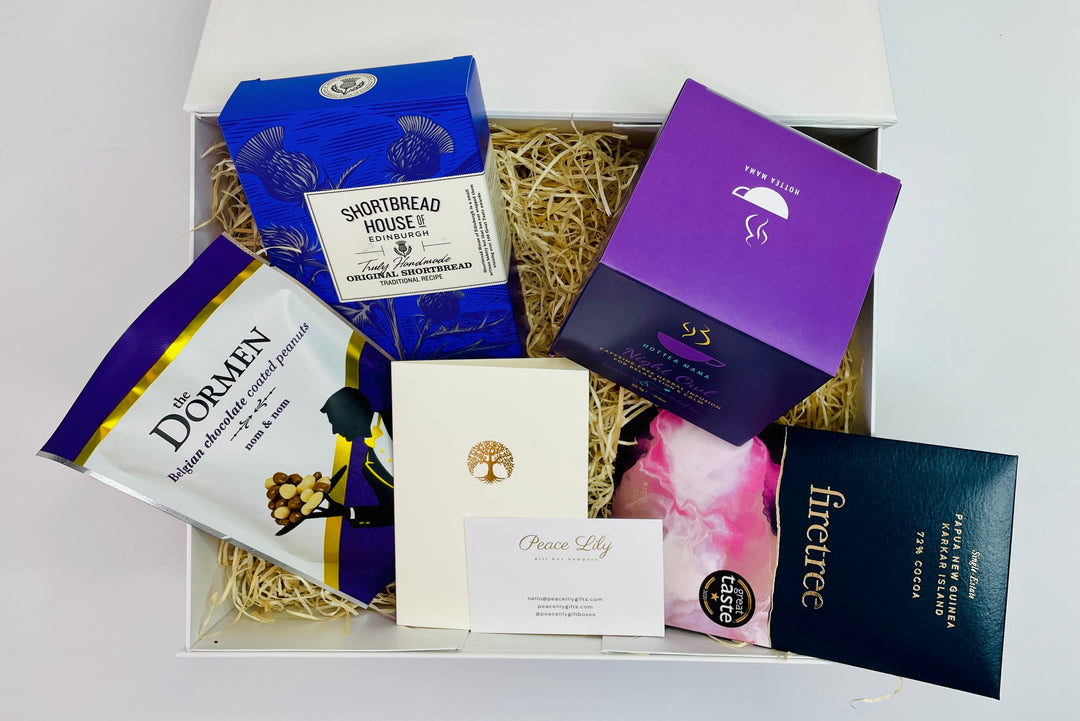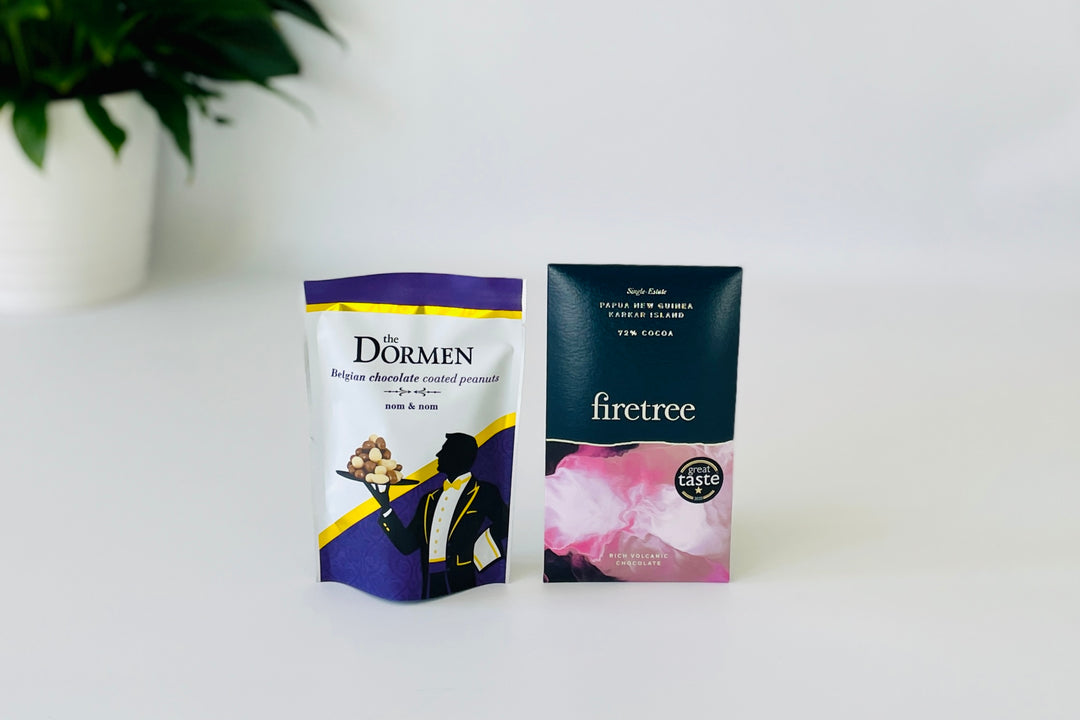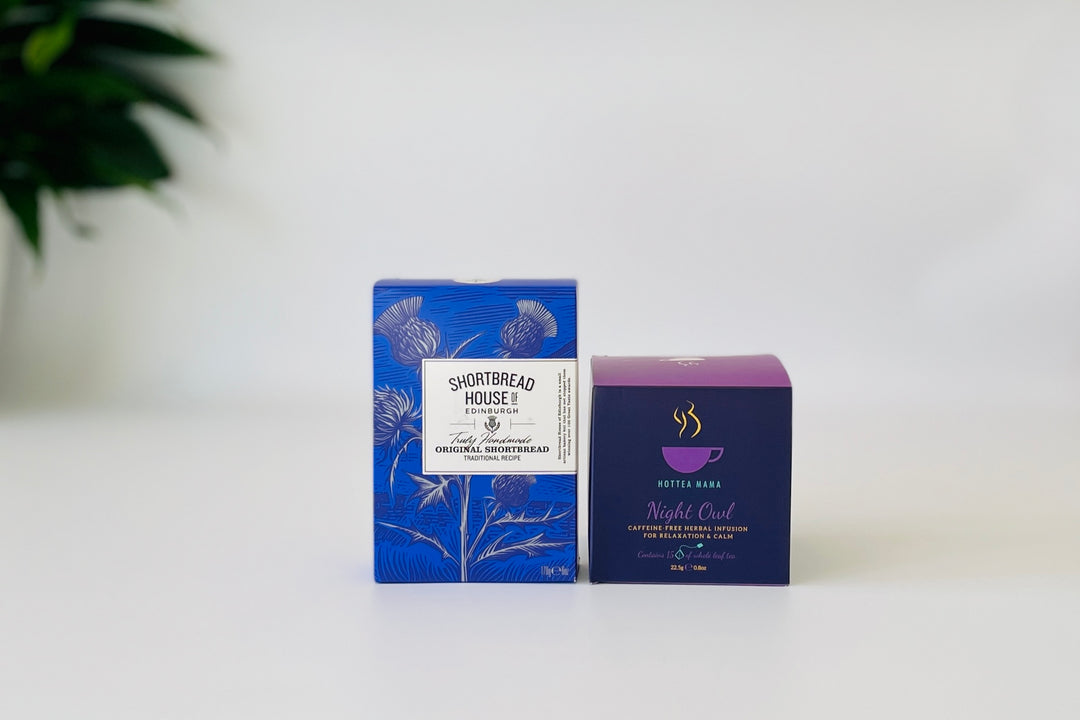 New Mum Gift Hamper
202338TG
---
Dispatched within 5 working days
Add free personalised card
Liquid error (snippets/image-element line 107): invalid url input
A thoughtful and beautiful tea gift for someone struggling to get their Zzzs ... (or a tongue in cheek gift for someone who puts you to sleep?)! A perfect little gift for new parents or someone in need of some calm.
With Hottea Mama's calming caffeine-free whole leaf tea and flower blend matched with multi-award winning delicious artisan Scottish shortbread, award winning single-estate Firetree chocolate bar, and Belgian chocolate nuts and this hand packed and carefully curated gift box is sure to be well-received.
This new mum gift hamper is beautifully presented in a reusable magnetic white box with eco-friendly natural filler and is accompanied by a card and envelope with your personal message, and a hand tied ribbon and bow to finish.
What's in the gift?
This gift includes:
1. A personalised card with the recipient's name and your personal message. Please choose your card type and add your free personalised message in the shopping basket.
2. Hottea Mama Night Owl (15 whole leaf bags): A perfect brew for a new mum, or any tired tea lover.  Ease into the land of nod with a carefully balanced blend of natural ingredients linked to easing stress, promoting sleep and calm, including chamomile flowers, lavender, valerian root, lime flowers, rooibos and corn flowers. Winner of maternity product of year 2019.
Founded by Bethan, a Tea Scientist and Kate, after experiencing fertility and pregnancy struggles. HQ in Oxfordshire. Hottea Mama only use whole leaf, natural ingredients to ensure the full flavour and goodness of the tea leaves and flowers, all within plastic free, biodegradable tea bags that are plant based. Vegan-friendly, gluten-free.
3. Shortbread House of Edinburgh Original Recipe Shortbread Biscuit (170g): Indulge in this multiple Great Taste Award winner, handmade with the addition of a little ground rice that gives a light crisp texture. Irresistible. Product of Edinburgh.
4. Firetree Papua New Guinea, Karkar Island 72% Cocoa Bar (65g): A rich, volcanic, single estate bar with taste notes of walnut and wild mushroom yield to intense cocoa ending with truffles, let your recipient take time out to savour and let the flavours develop on the palate. No artificial flavours or fruit ingredients. Suitable for a dairy free, vegan, vegetarian, kosher and halal diet. Product of Peterborough, Cambridgeshire.
Founded by industry veterans, David and Martyn, who are passionate about taste, provenance, cocoa pedigree, rarity, and the volcanic island farmers. 
5. The Dormen Belgian Chocolate Peanuts (100g): Virginia-grade peanuts smothered in rich luxurious Belgian Milk and White Chocolate for the perfect treat. Moreish! Vegetarian friendly, gluten Free. Product of Wiltshire.
6. Magnetic Gift Box: Sturdy and made from 40% recycled material, your beautiful box can be up-cycled once all your hamper goodies are gone. Ideal for storing treasured items or mementos; and will complement any home. What will you or your recipient do with yours/theirs?

Some products may vary on occasion subject to stock, however the new mum gift hamper will include items of similar value and will be just as scrumptious.
Gift Hamper Box Dimensions: 28 x 22 x 11cm. 
The magnetic box hamper will be placed in a cardboard packing box for postage.
All hampers and gifts are handmade to order and are shipped within 3 to 5 working days Monday to Friday (excluding bank holidays).
Enjoy free standard UK delivery on orders over £60.
Please check for the ingredients of individual items online before purchasing.
Alternatively, do not hesitate to contact us, ask for any items not to be included or for a substitution.
In our curated hand-packed gift boxes, you will find many classic local delights, as well as high-quality products made by passionate award-winning artisans from across the UK.
Each hamper box contains the finest products, healthier choices and great taste while supporting small businesses, good causes and the environment. All handpacked with love.