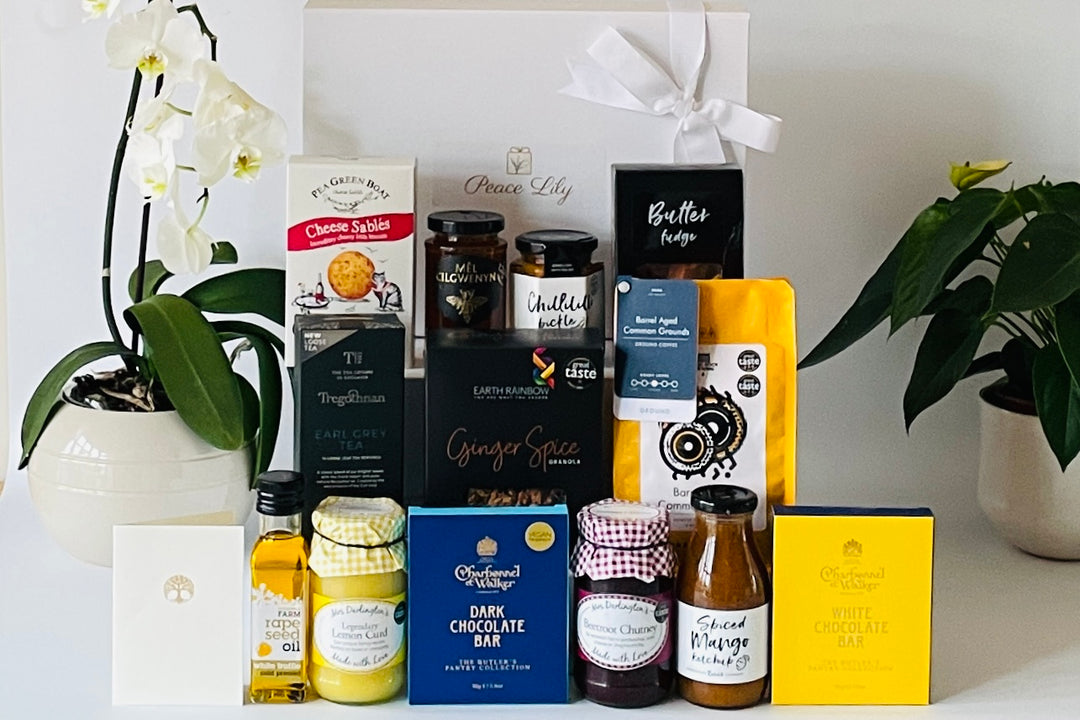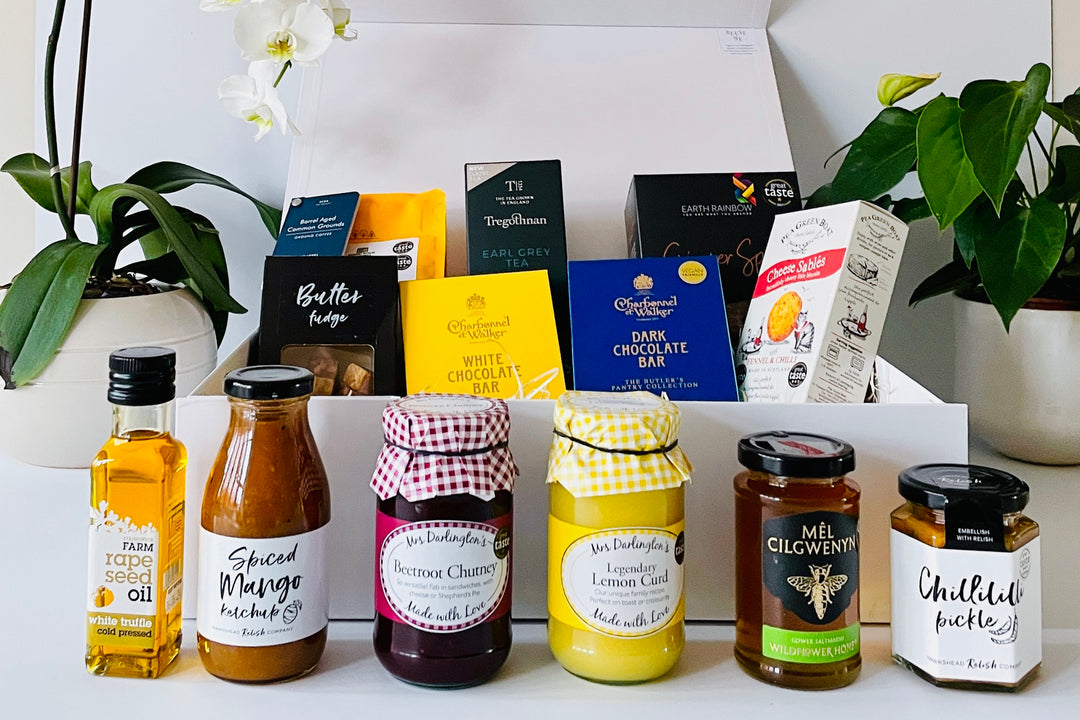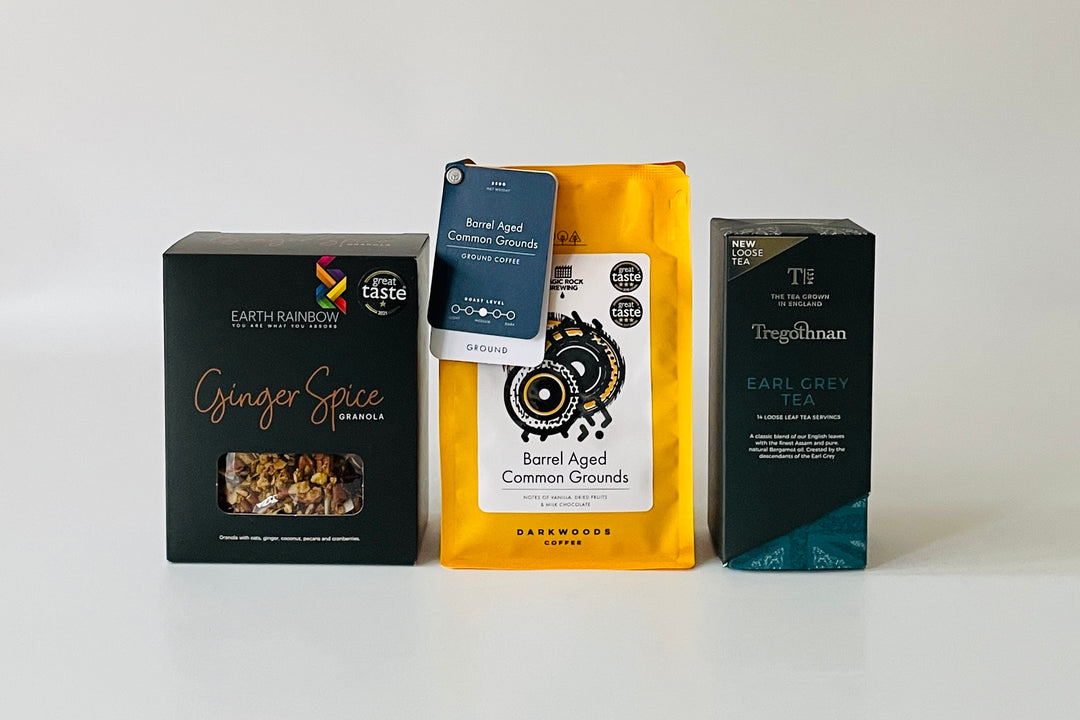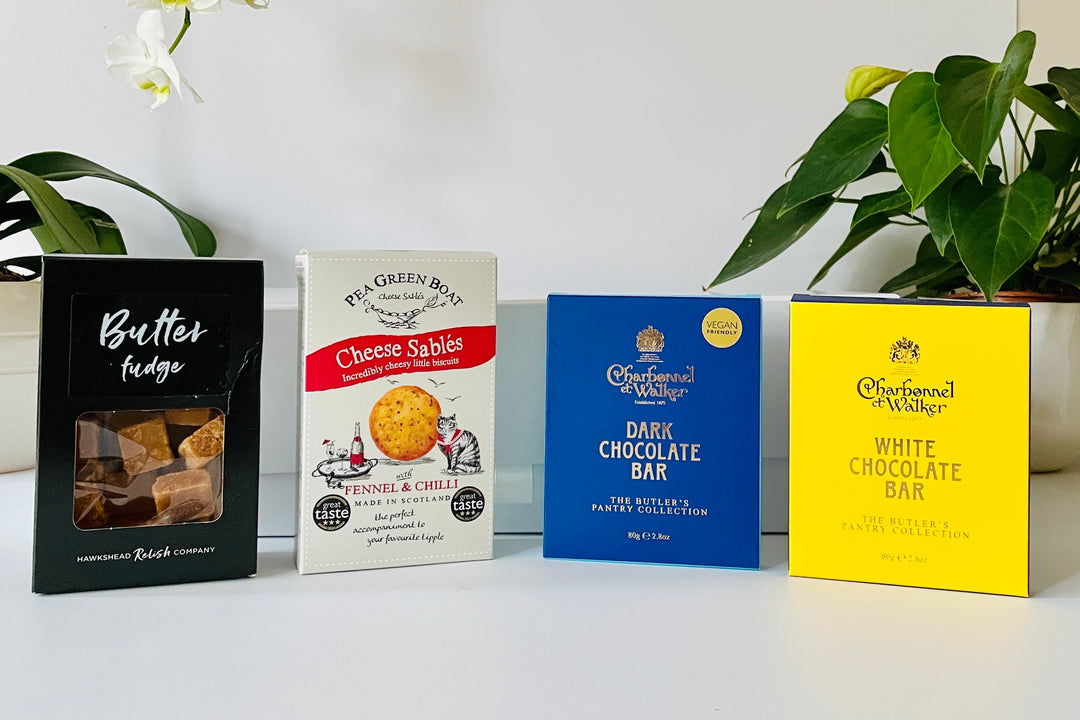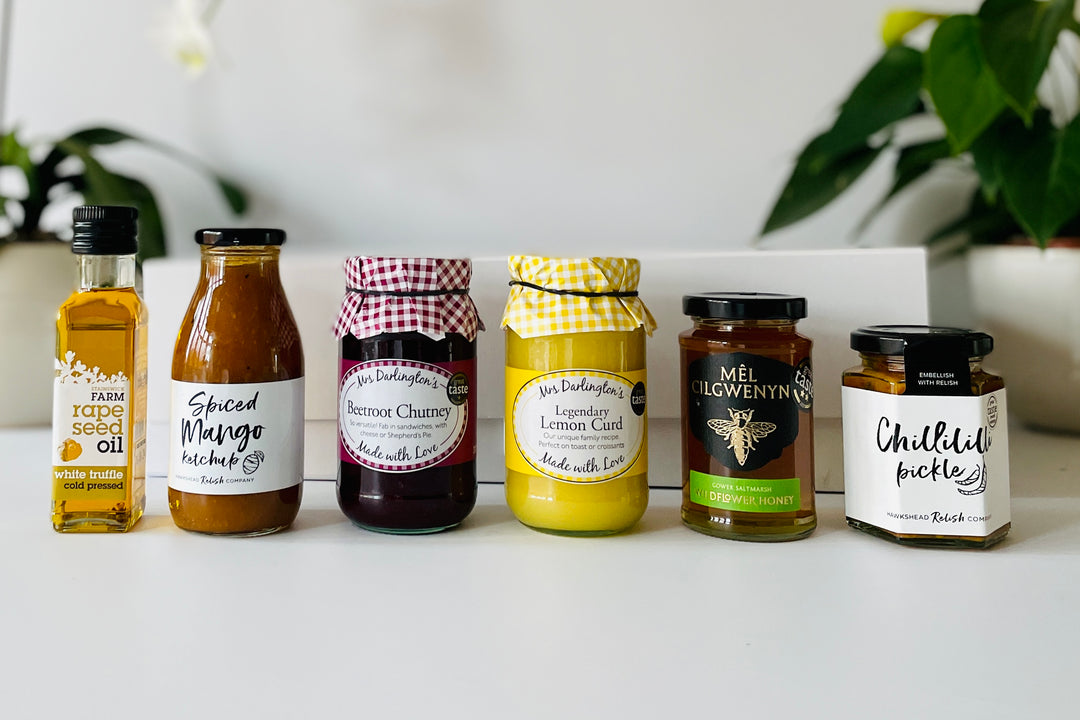 ---
Dispatched within 5 working days
Add free personalised card
Liquid error (snippets/image-element line 107): invalid url input
A great gift for a new home with Great Taste Award winners. A beautiful gift for foodies for anniversaries, birthdays, Christmas, Father's Day, Mother's Day, saying thank you or any other special occasion.
Boasting a mouth-watering selection of British grown green tea, multi-award winning hand roasted coffee, Welsh honey, chutney, chocolates, truffle-infused oil and more, this hand packed and carefully curated pantry gift box will delight!
This gift is beautifully presented in a reusable magnetic white box with eco-friendly natural filler and is accompanied by a card and envelope with your personal message, and a hand tied ribbon and bow to finish.
What's in the gift?
This pantry hamper includes:
1. A personalised card with the recipient's name and your personal message. Please choose your card type and add your free personalised message in order notes in the shopping basket.
2. Tregothnan Earl Grey Loose Tea (14 servings): A blend of rare Cornish tea leaves from the Tregothnan Estate tea gardens and the finest Assam, infused with pure, natural Bergamot oil. Product of Cornwall.
3. Dark Woods Coffee Barrel Aged Common Grounds (400g, Ground): Multi-award winning coffee, including two 3-Star Gold Great Taste awards, Ethiopia Yirgacheffe Arabica coffee beans, aged and cured in Kentucky Bourbon whiskey oak barrels, then gently hand roasted.
The Darkwoods Coffee team ls located in riverside Victorian Mill nestled in the West Yorkshire Pennines and surrounded by dramatic moorland, from where they roast coffee on a vintage Probat drum roaster. Product of West Yorkshire.
4. Earth Rainbow Ginger Spice Granola (300g): A gold star winner at the 2021 Great Taste Awards. Think spice sensation that will set your day ablaze, and full of goodness to keep you full and energised!
Nichaan and Paul, the makers, believe that eating nutritious food is important, but it should also be fun! Product of Bangor, Northern Ireland.
5. Pea Green Boat Cheese Sablés with Fennel & Chilli (80g): Winner of the Golden Fork Award for best Scottish product alongside 3* Great Taste Awards in 2020 and 2019.
Lovingly hand made using mature cheddar, Italian parmesan, butter and local organic flour. Enjoy with wine and other drinks, for picnics or as a unique canapé base. Its warm, spicy notes pair especially well with Gin & Tonic and a cool beer or cider. Product of Edinburgh.
6. Charbonnel et Walker Dark Chocolate Bar (80g): Renowned for their dark chocolate, made from the finest dark couverture, making for a decadently rich taste and an unforgettable experience, comes this simply scrumptious bar. Enjoy!
Founded in 1875, Charbonnel et Walker, the iconic London chocolatier, is one of Britain's earliest and holds a Royal Warrant as a manufacturer of chocolate to Her Majesty The Queen.
7. Charbonnel et Walker White Chocolate Bar (80g): Delight with this creamy White Chocolate and natural Vanilla Bar. It's perfect for a pick me up or for that little something extra special. Suitable for Vegetarians.
8.  Hawkshead Relish Butter Fudge (150g): Traditional butter fudge, made locally in Kendal and delicious. Product of Cumbria.
9. Hawkshead Relish Chilli lilli (185g): A twist on Piccalilli. A chunky and traditional chutney, packed with all the good stuff and finished with a kick of chilli. Gherkins, cauliflower, red peppers, carrots, courgettes, and more are fused together with mustard, pepper and chilli. Vegan, gluten-free.

From the multi-award artisan food producer in the Lake District, Cumbria.
10. Mêl Cilgwenyn Gower Saltmarsh Wildflower Honey (270g): A 2-Star Great Taste Award honey to experience the mouth-watering purity and unspoilt and protected nature of the Gower Saltmarsh.
Raw and 100% Carbon Neutral ethically and sustainably produced Welsh Wildflower Honey uniquely made with nectar from many flowers including rare gentians, sea holly, orchids, sorrel, and sea lavender collected from a Special Area of Conservation and the UK's first Area of Outstanding Natural Beauty. Product of Wales.

11. Mrs Darlington's Legendary Lemon Curd (320g): A 1-Star Great Taste Award winner. Made to their family recipe and passed down through the generations, Mrs Darlington's legendary Lemon Curd is like sunshine in a jar. Fabulous on hot buttered toast or freshly baked croissants. Gluten-free. Product of Crewe, Cheshire.
12. Mrs Darlington Beetroot Chutney (312g): An incredibly versatile 1-Star Great Taste Award winner, that is delicious and to be enjoyed with cheese and biscuits, shepherds pie, smoked mackerel, cold meats, salads and in your favourite toasties. Gluten-free. Product of Crewe, Cheshire.

13. Hawkshead Relish Spiced Mango Ketchup (305g): A 2-Star Great Taste Award winner from 2020, this  'wake up your taste buds' sauce is packed with spices that are freshly roasted for each batch with all the flavour of a rich mango chutney with a soft pouring consistency. Ideal to mix with mayo, in sandwiches or as a dip. Vegan, Gluten Free. Product of Cumbria.
14. Stainswick Farm White Truffle Oil (100ml): A Taste of the West Gold award winner! This white truffle rapeseed oil is an amazing finishing oil that is perfect for drizzling over pasta, risotto, egg, mushroom or cheese based dishes. Grown, pressed and bottled on the family farm on the Oxfordshire/Wiltshire border.
15. Magnetic Gift Box: Sturdy and made from 40% recycled material, your beautiful box can be up-cycled once all your hamper goodies are gone. Ideal for storing treasured items or mementos; and will complement any home. What will you or your recipient do with yours/theirs?
Some products may vary on occasion subject to stock, however the pantry hamper will include items of similar value and will be just as scrumptious.
Gift Box Hamper Dimensions: 40 x 30 x 11cm. 
The magnetic box hamper will be placed in a cardboard packing box for postage.
All hampers and gifts are handmade to order and are shipped within 3 to 5 working days Monday to Friday (excluding bank holidays).
Enjoy free standard UK delivery on orders over £60.
Please check for the ingredients of individual items online before purchasing.
Alternatively, do not hesitate to contact us, ask for any items not to be included or for a substitution.
In our curated hand-packed gift boxes, you will find many classic local delights, as well as high-quality products made by passionate award-winning artisans from across the UK.
Each hamper box contains the finest products, healthier choices and great taste while supporting small businesses, good causes and the environment. All handpacked with love.